Leader for Microsoft 365 Services and Managed Azure
glueckkanja was reconfirmed as the industry leader for managed services in Microsoft 365 and Azure in ISG's 2023 study. With a clear vision and implementation strategy, a customer-centric approach, and a strong focus on security and employee satisfaction, the company demonstrates that it meets the needs of its customers.
When it comes to being a leader in the world of managed services for Microsoft 365 and Azure, one name keeps popping up in the industry: glueckkanja. The company has once again secured its place as a Leader in ISG's 2023 study, proving that it continues to expand its expertise and commitment.
Microsoft 365 Services: Focused on customer needs
The Workplace Services from glueckkanja are specifically tailored to the needs of customers with more than 1,000 users. In doing so, the company relies on a vision and implementation strategy that fits seamlessly into the requirements of its customers. The success of this strategy is also reflected in the growing new customer business.
Strengths at a glance
Customer focus: glueckkanja is committed to providing its customers with practical benefits and supports them, for example, in time-consuming tasks such as the distribution and management of software certificates in the cloud.
Clear objective: With the claim to become the leading provider of managed services for Microsoft Workplace and Azure Datacenter in the German SME sector, glueckkanja has set itself a clear objective and is consistently pursuing it.
Technology at the service of customers: The use of Windows Platform and Windows Enterprise Clients with the functions for collaboration and the protection provided by Microsoft 365 Defender enables users to be productive wherever they need to work.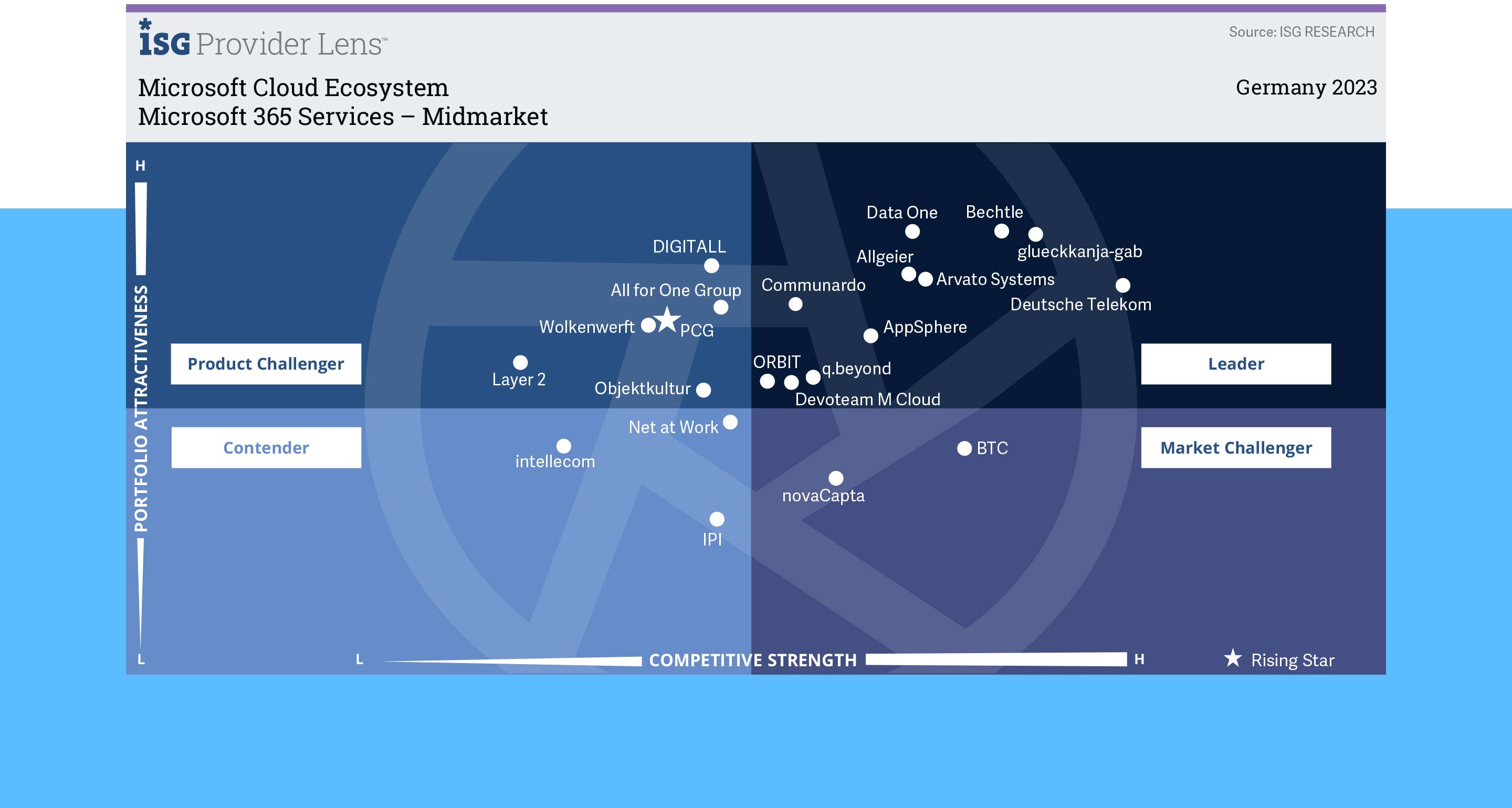 Managed Services for Azure: Success through satisfaction and security
glueckkanja has managed to position itself as one of Germany's leading partners for managed services on the Azure platform, and in the process has strengthened the trust of its customers.
Strengths at a glance
Successful reorganization: the successful completion of the merger enabled the company to achieve a high level of employee satisfaction.
Strong partnership with Microsoft: with five of the six new Solutions Partner Designations, glueckkanja demonstrates that it meets Microsoft's high requirements and masters optimal software deployment for customers.
Security in focus: glueckkanja relies 100% on the Microsoft product range for its security concepts and thus avoids unnecessary complexity by foregoing 3rd party solutions.
The ISG Study 2023 once again underscores glueckkanja's impressive position as the industry leader for Microsoft 365 Services and Managed Azure. The combination of customer value, employee satisfaction and technical expertise shows that glueckkanja is the right choice for companies looking for a reliable partner for their Microsoft 365 and Azure needs. With consistent innovation and a close partnership with Microsoft, glueckkanja remains a reliable partner for customers looking for efficient and secure solutions.